Fundy National Park, New Brunswick: Home to the World's Highest Tides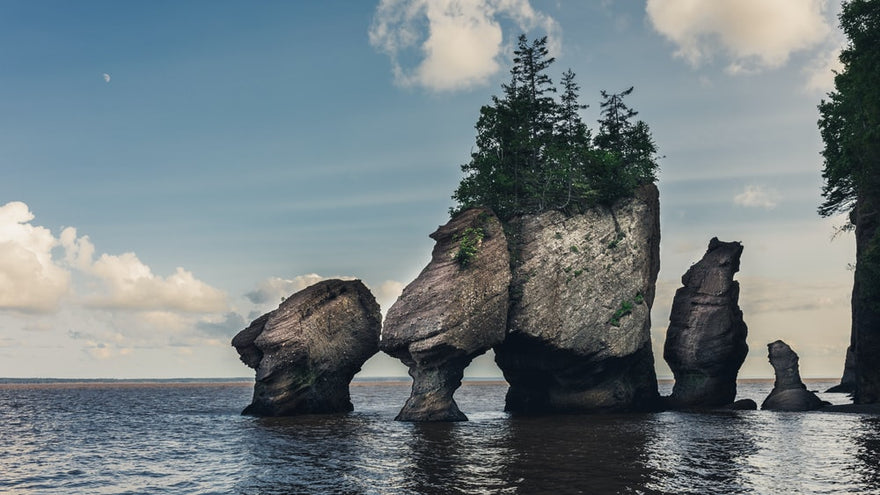 Source: Unsplash
A place of breath-taking views and outstanding wildlife, Fundy National Park is one of the Maritimes' many fascinating treasures.
The park overlooks the amazing Bay of Fundy, best known for its amazing whales, seals and even dolphin populations! The park was established in 1948 and covers 206 square km (80 square miles) of land, including 13 km (8 miles) of the coastline. As it claims, the bay is home to the highest tides in the world, reaching around 16 meters (50 feet) when at its peak during high tide. For reference, this is around the equivalent of a five-story building. This mass difference in the tides slowly moves in and out along the coast and reaching a max high or low approximately every 6 hours! This means in a 24 hour period you can witness the tide rise and fall twice!
The park itself offers a variety of accommodations like bring-your-own-tent campsites, luxury tents, yurts and even cozy cabins! The park is filled with outdoor adventure with over 100km of hiking trails ranging from easy to difficult, some are even bike accessible! Not into hiking? No worries! There are so many activities in the park like a 9-hole golf course, exploring the ocean floor at low tide, kayak tours and rentals, and seasonal fishing! There is something for the whole family to enjoy!
This Canadian treasure trove is one not to be missed, with views you won't be able to get anywhere else in the world. Fundy National Park is a must stop for any Maritime trips as the views, wildlife and amazing people will make sure you never want to leave! A true Canadian gem that will take your breath away!
---
Leave a comment
Comments will be approved before showing up.