Why Do We Wear Orange on National Day of Truth & Reconciliation? Phyllis Webstad's Story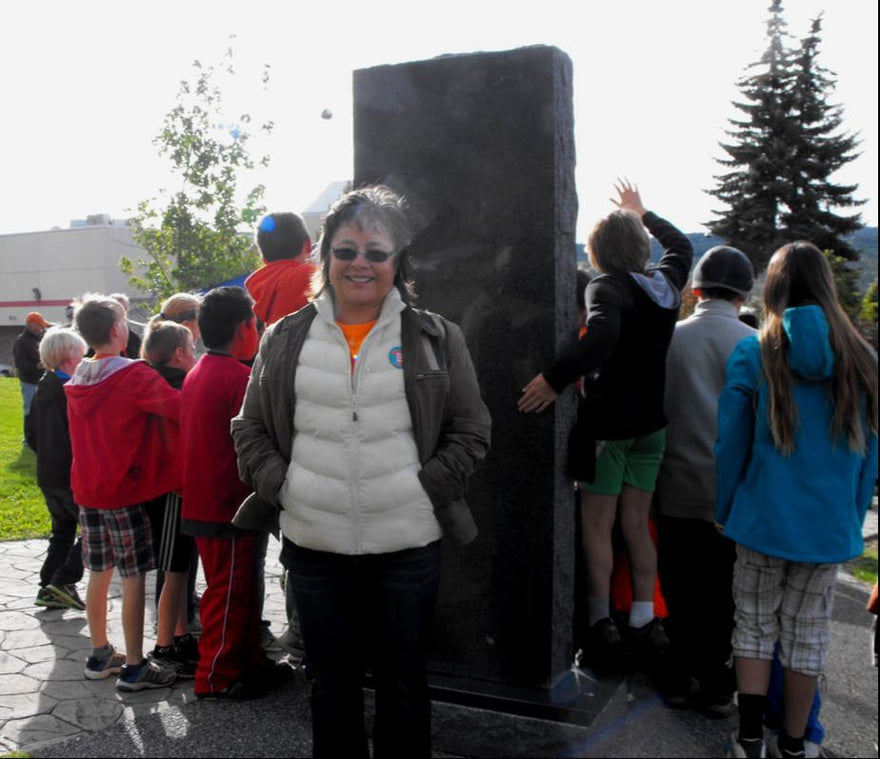 Source Orange Shirt Society
Each year September 30th marks National Day for Truth & Reconciliation, also known as Orange Shirt Day. Officially marked as a federal statutory holiday in 2021, this day honours the survivors of residential schools and the children who did not make it home. There were 140 federally run residential schools which operated in Canada from 1831 to 1998. Survivors of residential schools have advocated for recognition and demanded accountability for the intergenerational impacts of the harm caused. The National Day for Truth & Reconciliation is a direct response of the survivors' efforts.
On the path to healing, Orange Shirt Day has become a powerful tool in the process of reconciliation. The legacy of Orange Shirt Day originates from the story of residential school survivor Phyllis Webstad. Born in Dog Creek, BC, Phyllis is Northern Secwpemc (Shuswap) from the Stswecem'c Xgat'tem First Nation (Canoe Creek Indian Band). She comes from mixed Secwepemc and Irish/French heritage.  
Source Orange Shirt Society 
At just six years old, Phyllis attended St. Joseph's Mission Residential School in Williams Lake BC. Like many students, Phyllis was excited to attend school for the first time, purchasing a new outfit for the special occasion. Dressed in her shiny new orange shirt, Phyllis excitedly attended her first day at St. Joseph's Mission Residential school. Soon after arriving at residential school, Phyllis was stripped of her new orange shirt which she never saw again. Understandably, Phyllis was very upset to have her shirt taken, not understanding why they would not return her belongings. From this experience Phyllis has since associated the colour orange with the awful memories of her time at residential school and how her feelings did not matter. The scars from Phyllis's time at St. Joseph's Mission Residential School have left life-long intergenerational consequences. At 27, Phyllis attended a treatment centre for healing and has been dedicated to self-healing since.
Today, Phyllis is the founder and ambassador of the Orange Shirt Society. Orange Shirt Day and the Orange Shirt Society is a legacy of the St. Joseph Mission Residential School Commemoration Project & Reunion. Since May of 2013 Phyllis has been touring the country telling her story to raise awareness about the impacts of residential schools.
Orange Shirt Day is held annually on September 30th. The date was chosen because it is the time of year when children were taken from their homes and sent to the residential schools. Orange Shirt Day creates an opportunity for meaningful discussion about the impacts of residential schools and the scars they have left behind. It is a time for survivors to reaffirm that that they matter and honour those who did not make it home.
For more resources visit the official Orange Shirt Day Organization via the link below!
Additional Resources
National Day for Truth and Reconciliation - Canada.ca
Truth and Reconciliation Commission of Canada (rcaanc-cirnac.gc.ca 
---
Leave a comment
Comments will be approved before showing up.