The World`s Largest Skating Rink- The Rideau Canal Skateway!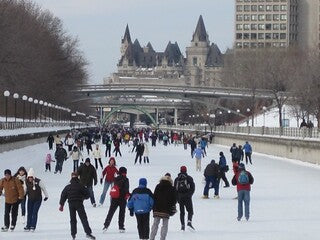 Source: Flickr
What's 7.8km long and considered to be the world's largest skating rink? Well, it's the Rideau Canal Skateway, of course! Located in the heart of Canada's capital city, the Rideau Canal Skateway is a UNESCO World Heritage site and is a treasure to locals and tourists alike (National  Capital Commission, 2022).
 The Skateway first opened the winter of 1970-71 and has officially held the title of the world's largest skating rink since 2005. The idea was sparked by then newly-Appointed NCC chair Doug Fullerton, and was soon turned into a reality with a team of willing colleagues, some brooms and some shovels. It first ran between Mackenzie King and Laurier bridges, and was later extended to Dow's Lake. Lights overhead and ways to project music were added to make evening skates more enjoyable, as well as fire pits, drink and food vendors, picnic tables, washrooms and rest stops to make it comfortable for all. Since then, the canal has been an ideal spot for hockey and curling tournaments, Guinness World Record attempts, concerts, or to simply grab and savour a Beavertail!
Each year, the Rideau Canal Skateway opens between mid-late January and remains open until March. According to the scientists at the NCC, it must remain closed until the ice is about 30cm thick. A good indicator of when the ice is thick enough is when Ottawa has experienced 14 consecutive days of frigid temperatures between -10 and -20 degrees Celsius (BRRRR!). That's one way to keep Canadians enjoying the cold and even wishing for more, for the sake of more outdoor fun on the ice!
For over 50 years now, the yearly opening of the Rideau Canal Skateway has been part of many family traditions, and is especially enjoyed by many during Ottawa's Winterlude festival in February. The excitement begins any day now for the 2022 season!!
Sources
https://ncc-ccn.gc.ca/places/rideau-canal-skateway
https://ottawatourism.ca/en/see-and-do/rideau-canal-skateway
---
Leave a comment
Comments will be approved before showing up.