Great Big Seas and Vikings: Norse Life as Far East as You Can Get (without getting your shoes wet)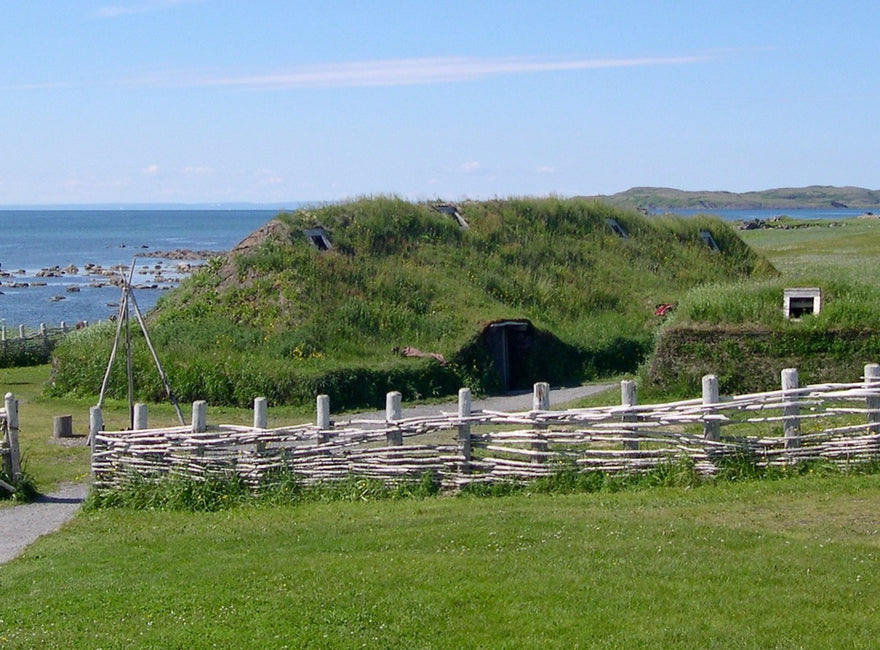 When Giovanni Caboto landed at Newfoundland in 1497, he was of the mind that it was, indeed, newly found land. As we well know, the land on which he stood had been the home to thousands of people since time immemorial, long before borders were drawn, Canadian confederation, or Justin Trudeau took his first steps. In fact, the arrival of the European settlers had been known to many Indigenous people long before Caboto ventured west-war for King and Country. Interestingly enough, Caboto wasn't even the first colonizer to land in that same region. Almost 600 years before that fateful landing, Norse Vikings sought to settle that very land, and that, humble reader, is the story you are about to read.
Like many explorers, the Vikings were driven by desires for gold, land, treasure, and celebrity. The European tradition (which Canada has inherited) looks to artifacts, relics, and the written word as the primary methods for understanding the past as well as our own culture and the cultures of others. Many cultures rely on storytelling and oral traditions to transmit culture and history. Indeed, for many years the history of Viking travels so far westward were stories and manuscripts passed down from generation to generation, but there was no physical evidence to add or corroborate these accounts. In the 1960s, clues to the mysteries of Viking life in North America were found in the re-discovery of a Viking settlement. The site, L'Anse aux Meadows, is located at the northern-most tip of Newfoundland, and was initially spotted by writer Helge Ingstad. Excavation of the site was led over the course of eight years by archaeologist Anne Stine Ingstad. The team believed that they'd found the legendary Vinland, a paradise-like place named for its abundant grapes desired for wine-making. Now, anyone who has ever been to Newfoundland might have some confidence that Lief Erickson and his Norse companions wouldn't exactly have been giving Jackson Triggs a run for their money. In reality, Helge Ingstad believed that the 'vin' in 'Vinland' more likely referred to 'pasture' or 'meadow' rather than 'wine.'
It is thought that the Vikings traveled from Greenland or Iceland and landed in Newfoundland at around 900 C.E, and it is thought that as many as 90 Viking settlers lived at L'Anse aux Meadows. At the site, they unearthed wood-framed peat-turf buildings in the same style as those built in Norse Greenland and Iceland around the same time period. The structural similarities help archaeologists to determine that the settlements were used by Vikings, as the area had been a seasonal hunting camp used by the Dorset people. They also found cooking pits, a small iron forge and remnants of bog-ore, bronze cloak fastening pins, needle, and a spindle whorl. Based on knowledge of Viking social structures, the latter two items suggest that the settlement had been home to both men and women. The Vikings were also the only people to extract and forge bog-ore during that period of time, and so the rediscovery of bog-iron tools and weapons is truly fascinating. If you're interested in learning more about forging bog-iron, there is a video link down below! (We promise it's more interesting than it sounds.)
It is known that the Vikings had been part of numerous trade routes through the Middle East and China, and as such it is likely they quickly sought to establish trade routes with Indigenous people, including the Dorset people who lived around the region. Additional evidence to support theories about Norse trading arose a few years ago. In 2015, a team of archaeologists based out of the University of Alabama believed that they had found a Norse-like hearth and evidence of bog-iron, indicative of a second Viking settlement. Based on this discovery, it was suggested that L'Anse aux Meadows was used as a base-camp from which larger, southbound expeditions were made, or a point along a larger trade route. It is also believed that deteriorating relationships with the Indigenous people with whom they traded (and whose land they were on) may have contributed to their departure several years later.
Nowadays, L'Anse aux Meadows is a beautiful place to visit. It has been restored and in the warmer months, you can find reenactments and take a look at some of the artifacts found at the site! You can take a look down below for more information on L'Anse aux Meadows!

Cool Material to Check Out!
General information about L'Anse aux Meadows: http://www.historicsites.ca/lanse-aux-meadows/
The Vinland Sagas telling of Viking travel to North America: http://www.pc.gc.ca/eng/lhn-nhs/nl/meadows/natcul/saga.aspx
Details about life in Vinland (aka L'Anse aux Meadows): http://www.canadianmysteries.ca/sites/vinland/vikinglife/indexen.html
Smelting Bog Ore: http://www.medievalhistories.com/smelting-iron-viking-way/
A video on forging bog-ore: https://www.youtube.com/watch?v=nawCa-4dWgY
Uncovering a second site; Patricia Sutherland: http://ngm.nationalgeographic.com/2012/11/vikings-and-indians/pringle-text
---
Leave a comment
Comments will be approved before showing up.