Would you like to become a Newfoundlander? Then Take the Shot and Kiss the Cod!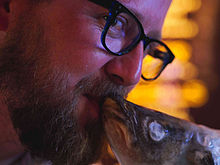 Heading to Newfoundland? Well practice your pucker, because you might just be asked to take part in a 'screech-in'!
Screech is a type of rum produced in Newfoundland, but was once the colloquial term for any cheap, high-alcohol spirit, including moonshine.  When you visit Newfoundland, you might be asked to participate in the 'screech-in' ceremony.  The ceremony is optional, but if you do it you're officially a Newfoundlander!
To take part in a 'screech-in', all you have to do is take the shot, recite the short speech, and kiss the cod.
Did I not mention the cod?
Cod fishing was an incredibly important industry in Newfoundland's history from the 15th century to the early 1990s.  The earliest travelers to what would later become Canada wrote about the abundance of cod, some going so far as to say they were so thick they could hardly row a boat through them, or were so abundant one could walk across them to land. The coast of Newfoundland was operated as a cod fishery for centuries, until over-fishing resulted in the collapse of the cod population and the fisheries were forced to shut down.  Cod remains popular for its mild flavour, low fat content and white flesh.  The liver of a cod can also be processed to make (what else) cod liver oil.
Not to mention, cod are incredibly ugly and perfect for kissin'!
Image from quiltsbyjen.ca
But once you've completed the screech-in, you are officially a Newfoundlander.  If you're lucky, you might even receive your honorary certificate to frame and show off to your friends back home!  And if you're really lucky, maybe someone at the bar will buy you another shot to wash down the taste of fish...
---
Leave a comment
Comments will be approved before showing up.