A Brief History of Tim Hortons and the Tim Horton Children's Foundation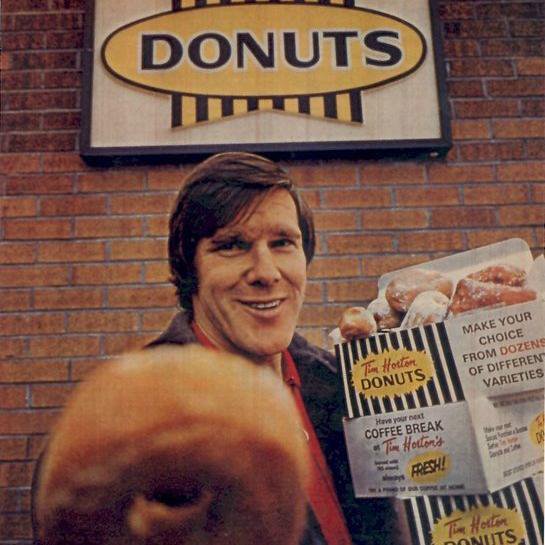 Tim Hortons is a Canadian icon, you can find one (or more!) in nearly every city, town, and village in Canada.  But how did this prolific chain get its start, and how did it become the icon is it today?
From Cochrane to the NHL
"Tim Horton's Donuts" was founded by Canadian NHL star Miles G. "Tim" Horton.  Born in Cochrane, ON in 1930, Horton spent his childhood playing hockey in Cochrane and Timmins. In 1948 he was signed by the Toronto Maple Leafs organization and moved to Toronto to play junior hockey.  Two years later, he started playing with the Leaf's farm team and his career went pro.  Horton spent his professional career playing for the Toronto Maple Leafs, the New York Rangers, the Pittsburgh Penguins, and the Buffalo Sabres.  Tim Horton played for the Leafs during the 1962, 1963, 1964, and 1967 seasons, 1967 being the last time the Leafs won the Stanley Cup.
An Icon is Born
The first "Tim Horton's Donuts" opened on Ottawa Street in Hamilton, ON, in 1964.  Ringing up at 10 cents apiece, the coffee and donuts quickly became a sensation, and more stores started springing up.  By 1974, 40 Tim Hortons stores were serving up Canadians' daily dose of caffeine.  Unfortunately, in 1974 Tim Horton himself passed away in a car accident and his partner, Ron Joyce, took over operations.  Joyce bought out the Horton family, and set about making the small chain into a national sensation.  He began opening stores in other provinces, expanding the menu, and soon Tim Hortons became Canada's largest food service operator, even beating out the iconic golden arches of McDonald's in the early 2000s.
While initially stores were concentrated in Ontario and Atlantic Canada, the company has been putting more effort into expanding to other provinces and territories.  There's even a Tim Hortons in Iqaluit, Nunavut!  Tim Hortons also has an international presence, with stores in the Middle East, Asia, and Great Britain. 
From Coffee to Camp
To honour Horton, following his death in 1974 Joyce founded the Tim Horton Children's Foundation.  The first camp opened that same year in Parry Sound, ON.  According to the Tim Hortons website, the camp aims to "foster the strengths within youth to achieve their full potential and empower them to pursue a life without limits."  The camp's goal is to support youth ages 12 to 16 from disadvantaged circumstances and teach them skills like leadership, resilience, and responsibility. This year, camp day is Wednesday, June 5th.*100% of proceeds from all coffee purchases will be put towards sending deserving kids to camp, so don't forget to buy your Double-Double, eh? If you're reading this and it is no longer 2019, Camp Day is always the first Wednesday in June!
Today, there are 7 camps in North America, and the original Parry Sound camp still operates. Campers still attend at no cost to themselves or their families, and all the camps are accessible for those with disabilities.
Back to Hockey...
Tim Hortons is also noted for its contributions to community sports leagues, especially the Timbits Minor Sports Program.  The program provides opportunities for children ages 4 to 9 to play house league hockey, soccer, ringette, lacrosse, softball, and baseball.  Notable alumni of Timbits hockey include NHL stars Sidney Crosby and Nathan McKinnon.
Notable Milestones
1976- The Tim Bit is created, and becomes and instant sensation.  Since 1976, Canadians have eaten enough of the bit-sized treats to stretch to the moon and back almost 5 times!
1984- The first US store was opened
1986- The first Roll Up The Rim contest got Canadians everywhere rolling their coffee cups.  The biggest prize in 1986? A pack of Tim Bits.
1991- The 500th store is opened in Aylmer, QC
1995-The 1000th store is opened in Ancaster, ON
1999- Everyone's favourite, the Ice Capp, is born! 
2000- The 2000th store is opened in Toronto, ON
2004- The word "double-double" is added to the Canadian Oxford Dictionary, and Tim Hortons celebrates its 40th anniversary
So grab a double-double and a Canadian Maple donut, and cheers to the 55th anniversary of a Canadian icon! 
---
1 Response
Leave a comment
Comments will be approved before showing up.